Author: Azalea Ellis
Narrator: Natalie Duke
Length: 16 hours and 48 minutes
Series: Seeds of Chaos, Book 1
Publisher: Seladore Publishing
Released: Aug. 21, 2018
Genre: Science Fiction; LitRPG


My name is Eve Redding, and I am the new god.

They captured me in a dirty alley and injected me with a virtual reality chip, a GPS tracker, and my first Seed. They made me a Player. At first, I loved the miraculous ability to level up anything about myself.

Then they yanked me off my world for the first time and sent me to fight for my life on a vicious alien planet where the other Players are just as dangerous as the monsters, and if you can't level up, you die. But I'm the type to cling to life by the tips of my bloody fingernails. And I hate it when people try to control me.

Gods of Blood and Bone is the first book in the Seeds of Chaos series, a LitRPG/GameLit book that combines science fiction and game elements. Fans of Ready Player One, Red Rising, and The Hunger Games will likely enjoy this series.



Azalea Ellis loves to bend the world to her will. Maybe that's why she likes writing books. Creating worlds and people and then sending them through every ordeal imaginable might even give her some kind of sick thrill. Who knows? Maybe she just likes taking things from her head and bringing them to life. She's fascinated by almost everything, and wishes she could live to be a thousand, so she would have time to learn and do everything she wants.

Natalie Duke has been a working voice actor and member of SAG-AFTRA since she was eight years old. Natalie's young announcer voice could be heard on spots for big-name companies like McDonald's, Payless, Chex Cereal, Embassy Suites Hotels and many more. She even lent her singing talents to Gatorade's famous "Be Like Mike" campaign with Michael Jordan. Now an adult, Natalie's still going strong. These days, you can hear her on national TV and radio campaigns for Kellogg, Flintstones Vitamins, McDonald's, Sears, Laughing Cow Cheese, Safeway, Alka-Seltzer, Potbelly, Purina, Kmart, Famous Footwear, Nationwide Insurance, DeVry, KFC and more.

In the past few years, Natalie has also discovered a new passion in the voice world with audiobooks. An avid reader since she was a wee child, Natalie has immersed herself in the world of audiobooks and is grateful that she is lucky enough to have a career where she gets to read every day while also using her voice to create dozens of interesting characters. To date, she has recorded over 50 titles. She has a professional home studio where she can record any time day or night, but when she wants to escape her cave and be around other humans, she also has access to record from ARU Chicago, a state of the art recording studio in downtown Chicago. Natalie is a proud member of the Audio Publishers Association (APA). You can find all her titles on Audible.com.

I was not expecting this. I was so afraid to go through this audiobook, as it was so long. Also, I have never read a LitRPG novel and I didn't even know what it ment (a combination of literary and role playing game; basically: fantasy books + video games). The blurb is very attractive and believe me, if you decide to give it a try, it will be one of the best decisions ever made!
"Gods of Blood and Bone" is addictive. It catches you and you don't even know when the time flies, all you do is wait for the next round, see how the players will react or who/what will they face. It's an active game, in which all try to avoid "GAME Over", as it would bring death in real life. Yeah, yeah, I know it happens in most books – I looked it up, but it's how the author does it that's important. Azalea Ellis does it great. She keeps the reader right with the characters and the world she has developed is so interesting and complex.
Our main character is strong, determined and must always evolve if she wants to survive and be one step ahead of her competition. I loved her will of winning, I loved her character and how she evolves, not only as a player but as a person. I am so curious to see what happens next (I was actually expecting a more stable conclusion, after so many hours).
As for the narration, I have nothing bad to say. I loved it. I mean, seriously, after 19 hours of listening to the same voice (I try to avoid the increase of speed when possible, just to hear it in the natural rhythm), interpreting various characters, I cannot say anything bad. I loved it and I loved the strength the interpretation depicted.
So 5 out of 5 stars for a story that gripped me from the very beginning. I cannot wait to find out what happens next and I cannot wait to read more books by this author. She is really wonderful when it comes to world and character development.
I received this audiobook as part of my participation in a blog tour with Audiobookworm Promotions. The tour is being sponsored by Azalea Ellis. The gifting of this audiobook did not affect my opinion of it.

Oct. 9th:
Oct. 10th:
Oct. 11th:
Oct. 12th:
Oct. 13th:
Oct. 14th:
Oct. 15th: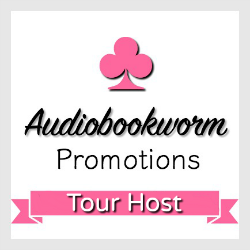 ➜Sign up as a host here