Author: Olivia Norem
Narrator: Greg Patmore
Length: 8 hours and 55 minutes
Publisher: Olivia Norem
Released: Aug. 31, 2018
Genre: Historical Fiction; Mystery


A modern thief

Katherine Goldman is a professional with world-class skills, but the expertise of the family firm doesn't lie within the scope of legitimate commerce. Goldman & Associates steals priceless treasures and delivers them to the highest bidder – and business is good.

When Katherine lands in Scotland to boost some relics, nothing in the experience of this notorious thief prepared her for a collision with a dark, rakish man wearing plaid…who happens to be trapped inside an ancient mirror.

A man imprisoned in time

Centuries before, Simeon Campbell had no idea the woman he charmed was a witch of unspeakable power. When Simeon refuses her gift of immortality, he quickly learns there is no wrath like a woman scorned.

Cursed to spend eternity within the bonds of her enchantment, Simeon is lost time and nearly bereft of hope. Until he's accidentally released by a lass with questionable motives, in a century he could never have imagined….

One wicked curse

As the pair plunge into a journey where danger trails them at every turn, this man of honor is determined to stop at nothing to save the woman he's sworn to protect. But Katherine stubbornly knows better than to clash with an enemy face to face. If Simeon is determined to defeat ancient evil at its source, he's going to need help. He's going to need a thief.




Since Olivia is old enough to remember, she devoured books and stories and became enchanted with the worlds the authors created. Imagination, unforgettable characters, and the swoon-worthy, alpha males have made a huge impact on her writing style.

Olivia is known for strong, sassy characters who are always ready with a quip of humor, despite their situations. Born in the Chicago area, Olivia moved to the sunny shores of the Tampa Bay more years ago then she cares to admit. Olivia writes full-time, and enjoys her "C" hobbies: cats, cigars and classic cars.

Greg became an actor in his mid 40s, fulfilling a lifelong ambition when he trained at Arts Educational Schools, and has enjoyed a varied career on stage, screen and in the voiceover studio ever since.
As a Voice Artist, Greg is an accomplished narrator of audiobooks, a regular in audio dramas made by the award-winning Big Finish Productions and has appeared as a voice artist in major movie and TV productions including The Gunman and Ripper Street, not to mention appearances in main roles such as Good 'Lias Hatfield in Hatfields & McCoys.
He has also voiced E-Learning projects including the instructional guide for Amazon's Kindle Fire.
Greg specialises in accents being expert in regional British, regional American and European. He is an accomplished musician and when not working is happiest of all on a boat!

I cannot even begin to describe how much I have enjoyed this audiobook! I mean, a physical copy would have worked just fine, it wouldn't have changed my rating. But the audio is simply fantastic!
Olivia Norem is bringing us a story from the depths of Scotland. We have a Laird cursed by a wicked witch and trapped inside a mirror for centuries and a thief J Miss Katherine Goldman is extremely good at what she does. She has a task and steps to follow in order to achieve it. But she feels the call of the enchanted object. She lifts the mirror and from here a story full of fun, passion and magic starts.
Simon and Katherine are so amazing together. There were moments when I laughed out loud and there are chapters that I listened to without catching a breath! Kat is strong, determined, smart and brave. She risks her safety and her job to make sure Simon is freed. She is patient in bringing him up to speed with technologies and …dress code. Simon on the other hand is …out of this century. Honor and strength are the two words that can best describe them (except handsome, sexy and charming, in a Scottish way). It all stats lightly, with the two of them trying to resist the pull they feel. But happiness does not last for long and soon Simon will have to face his pasts.
Finally, I am coming to the narration. It was phenomenal. The narrator did an amazing job with the accent, with voice acting, with the feelings. I have felt everything the characters felt. His interpretation was suited for a character from our times, but as well for one from centuries ago. Greg Patmore's interpretation is very very good!
Without talking too much, I loved this book, I love the author and I cannot wait to read more books by her. I loved the narration and I hope to have the opportunity to hear his voice in many more audiobooks.
I received this audiobook as part of my participation in a blog tour with Audiobookworm Promotions. The tour is being sponsored by Olivia Norem. The gifting of this audiobook did not affect my opinion of it.

Prize: $100 Amazon Gift Card
How to Steal A Highlander Giveaway: $100 Amazon Gift Card

Oct. 14th:
Oct. 15th:
Oct. 16th:
Oct. 17th:
Oct. 18th:
Oct. 19th:
Oct. 20th: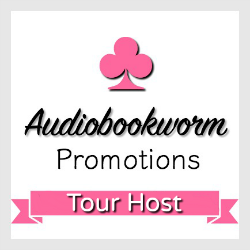 ➜Sign up as a host here