Author: K.M. Riley
Narrator: Audra Cook
Length: 6 hours and 5 minutes
Publisher: Trifecta Publishing House
Released: Sep. 14, 2018
Genre: Science Fiction; Dystopian


"I don't save, I kill. I don't build, I break. I don't run, I chase. And I won't rest until a new society is built on the System's ashes." (Cassidy Havok)

Kaden Valens' world is kill or be killed. Such is the life of a Challenger, the property of a Citizen. Fight or die. When Kaden is ordered to face his sole family member, his sister, Nix, he chooses a different battle – one against the Federacy that owns him.

Rebel Cassidy Havok is the Federacy's worst nightmare. Her only goal is to bring down the government, doing whatever it takes to eradicate the slave-based society. When Kaden defies the Federacy publicly, she hopes to make an ally out of him, turning the tide in the resistance's favor.

Cassidy helps Kaden escape the clutches of the Citizenry, and they flee to the Wilds, the world outside the Federacy's reach. There they plan for the fight of a lifetime. Can they take on a nation, or is their cause a lost one?




K.M. Riley is not only a lover of stories, but she's a game designer, artist, and fan of all things imaginative. If she's not writing, she's daydreaming or doodling about more worlds and characters that will make great tales. With a background in Creative Writing, she's always busy creating new adventures, or taking part in them.

What a book full of action! That's the main thing and the main item that would describe it. We have tons and tons of action and a hard fight against the system. It takes one apparently insignificant foe to open one's eyes and see the bigger picture.
I was so captured by the action and by the fighting scenes! The author does a great job at constructing them, but especially we have a great political system. We have fighters with superpowers and fighters willing to do what it takes to win, or to protect family and friends. With all these elements, I was thrown into a story that made me curious to see what would happen next.
The characters are quite all right. I liked their personalities and their will to survive and face the Federacy, but I also liked the relationship between them. However, I must admit I wanted a little bit more attention to their growth. We know they are fighters, but it looks like that's all they are. Small scenes and quick lines may show a glimpse into their deeper selves, but that's about it.
The narration was great, Audra Cook managed to capture the fights in her interpretation and also the panic, the strength and determination. Every scene she navigates with certainty and her voice is clear and easy to understand.
All in all, I liked the story quite a lot. Probably too much fighting made me decrease 1 star. I wanted a bit more from the story, I wanted to see more vulnerable sides of the characters. But I liked it and I'll follow the author to see what other surprises she has for us J Happy Reading!
I received this audiobook as part of my participation in a blog tour with Audiobookworm Promotions. The tour is being sponsored by K.M. Riley. The gifting of this audiobook did not affect my opinion of it.

Prize: $50 Amazon Gift Card
Fever Rising Giveaway: $50 Amazon Gift Card

Nov. 13th:
Nov. 14th:
Nov. 15th:
Nov. 16th:
Nov. 17th:
Nov. 18th:
Nov. 19th: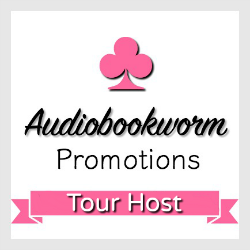 ➜Sign up as a host here