Author: Brett Matthew Williams
Narrator: Brett Matthew Williams
Length: 14 hours and 37 minutes
Series: Time Is Relative, Book 1
Publisher: Paradise City Publications
Released: Jan. 28, 2016
Genre: Fantasy; Historical Travel


Meet Rolland Wright – a 17-year-old orphan living out of his car in rural Woodland Hills, California. Aside from grappling with being abandoned by his drunken father two years previous following his mother's mysterious murder, his life mostly revolves around finding a warm place to sleep at night. When one day he is attacked by men claiming to have killed his father, Rolland discovers a strange ability to slow the flow of time around him, beginning a journey that takes him to places outside of time, space, and eventually to the early 19th century to fight the sinister General Andrew Jackson. With the help of a rag-tag group of historical and mythical figures with various supernatural abilities of their own (Joan of Arc, Jesse James, etc.) known as the Knights of Time, Rolland solves the mystery behind his mother's murder, falls in love, battles the evil Edward Vilthe, reaper of souls, and finds a home of his own in the paradise known as Eden.



Brett grew up with a passion for both film and history. He began his career fresh out of high school as a Production Assistant & football player on NBC Universal's television series Friday Night Lights (of which he can be seen in the first two seasons as a member of the championship team – Go Panthers!). He quickly moved on to serve as an Original Series intern with the USA Network in Studio City, California. Following work on shows like Monk, Psych, and Burn Notice, Brett returned home to Texas to continue his education, graduating with his degree in History from Texas State University. A proud Master Freemason, Brett thoroughly enjoys fantasy fiction, Star Trek TNG, running, baseball, Shakespeare, and spending time with his wife, two kids & their furry friends.

This series reminds me of Doctor Strange, with all the time manipulation and everything. I liked the premises, though I see this book as more of an introduction, since most of it was a presentation of the Knights of Time and their universe.
An interesting approach, with diverse characters, different characters and different personalities, "Time Is Relative for a Knight of Time" tells the story of a teenage boy called Rolland Wright who discovers on the same day that his father is dead, both his parents were powerful people and he is a potential knight of time. Additionally, his shelter gets destroyed (shelter = car). Yup, and I call my days bad.
We have interesting villains, a really great leader (I liked Professor Turtledove, with his good manners) and a very charismatic main character. Suffice to say I am fascinated about Doctor Strange and all these time travelling super powers. Oh, and did I mention that one of the female characters can manipulate weather? That's so cool!
I like the premises, I did not like how it all started. We have a lot of presentations and Rolland has so many questions (well founded ones). It all felt too much like an introduction. The romance aspect was a bit chaotic as well, since there are many ladies who want a piece of him. I do have my favorite, yes. One more thing and then I'm done with the negatives regarding the story: I did not quite understand this universe of the knights. It's supposed to be Eden, but how come creatures that can harm others live there? It left me with many questions.
In terms of the narration, I have nothing bad to say. The author is also the one who narrates the story and he does a very nice job. Good voice acting, well captured emotions and all that. My issue is with the sound quality. Sometimes it was low, sometimes high. I thought it was an issue with my device, but I've heard other opinions and we are all aligned here.
All in all, this is an interesting story and book 1 creates great premises for the next. With all my comments, and my moderate rating (3.5 stars), I am interested to see what's next and I am very confident that "Time is Relative for Wavering Loyalties" will be far more interesting
I received this audiobook as part of my participation in a blog tour with Audiobookworm Promotions. The tour is being sponsored by Brett Matthew Williams. The gifting of this audiobook did not affect my opinion of it.

Prize: $50 Amazon Gift Card
Time Is Relative Series Giveaway: $50 Amazon Gift Card

BOOK ONE
Nov. 29th:
Nov. 30th:
Dec. 1st:
Dec. 2nd:
Dec. 3rd:
Dec. 4th:
Dec. 5th:
BOOK TWO
Dec. 6th:
Dec. 7th:
Dec. 8th:
Dec. 9th:
Dec. 10th:
Dec. 11th:
Dec. 12th: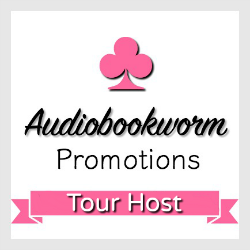 ➜Sign up as a host here