Author: Nina Munteanu
Narrator: Dawn Harvey
Series: The Splintered Universe Trilogy, Book 3
Length: 8 hours 59 minutes
Publisher: Iambik Audio Inc.
Genre: Science Fiction
Hear the scintillating conclusion of the Splintered Universe trilogy.

In Metaverse, Rhea Hawke travels back to Earth, hoping to convince an eccentric mystic to help her defend humanity from an impending Vos attack – only to find herself trapped in a deception that promises to change her and her two worlds forever.



Nina Munteanu is a Canadian ecologist and novelist. Her novels include: Collision with Paradise; The Cypol; Angel of Chaos; Darwin's Paradox; The Splintered Universe Trilogy; and The Last Summoner. In addition to eight novels, she has authored award-winning short stories, articles and non-fiction books, which were reprinted and translated into several languages throughout the world. Recognition for her work includes the Midwest Book Review Reader's Choice Award, finalist for Foreword Magazine's Book of the Year Award, the SLF Fountain Award, and The Delta Optimist Reviewers Choice Award. Nina's latest non-fiction book—"Water Is…" a scientific study and personal journey as limnologist, mother, teacher and environmentalist—was picked by Margaret Atwood in the NY Times as her #1 choice in the 2016 'The Year in Reading'.

Nina is a member of SF Canada. Much of Nina's work is on the environment and sustainability, examining the role and evolution of humanity in the context of nature and technology. Her upcoming novel "A Diary in the Age of Water", a near-future dystopia that explores the socio-political intrigues of water shortage in Canada, will be released in 2019.

Nina regularly publishes reviews and essays in magazines such as The New York Review of Science Fiction and Strange Horizons. She has been staff or guest writer for several online and print magazines or newspapers including Amazing Stories, Clarion, Niverville Citizen, and CBC Canada Writes. Nina co-edits Europa SF, a European speculative magazine. She was assistant editor-in-chief of Imagikon, a Romanian speculative magazine, and currently edits for Grimoire Books, USA, and Future Fiction, Italy. She has also served as acquisition editor of several anthologies such as "Water" (Reality Skimming Press) and "My Canada" (IOWI). Nina was interviewed or an invited speaker on topics to do with science & climate change, eco-fiction, writing and publishing at: The Globe and Mail, CUIT Radio, Delta Optimist, the Editors' Association, Gazeta SF, Mississauga News, Impakter, Langley Times, THAT Channel, Observatorul, Planet S, Speculating Canada, Times Colonist, The Commentary, World Poetry Café, Wonderville, CanCon, and When Words Collide, among others. Nina was the science fiction writing Guest of Honour at Limestone Genre Expo in 2016.

Nina has taught writing since 2005 and currently lectures at George Brown College and the University of Toronto. She has been a writing coach and editor since 2005 and has worked with novice and established writers toward successful publication. Her books on writing "The Fiction Writer: Get Published, Write Now!" and "The Journal Writer" (Starfire) are used in universities worldwide. They were translated into Romanian and published by Editura Paralela 45.

Dawn is an actress, singer, voiceover artist, and writer. She has narrated just under 50 audiobooks and is the recipient of both Earphone and SOVAS Awards for her audiobook work. Dawn lives in Calgary, Alberta, Canada, holds both Bachelors and Masters of Law degrees, is the mother of three adult children and shares her life with Dani, the most perfect dog in the world!

Dawn has been performing for as long as she has been able to walk, talk and sing. Her first memory is of being 5 years old, waiting on top of a hill with her family for the fireworks to begin and entertaining the hill full of audience members by dancing and singing "We'll Sing in the Sunshine", a song that had been released by Gale Garnett only a week earlier.
A stage and film actress for decades, Dawn began her voiceover career over a dozen years ago. Dawn's voice has been described as rich, warm, smooth, soothing, calming, sultry, confident, and comforting. Specializing in narration, e-learning, animation and audiobooks, Dawn's years of acting training enable her to bring characters, their voices and their stories to life. Dawn's love of learning new accents and developing new characters results in the growth of her portfolio year over year. Dawn's equal love of learning in general (how many actresses do you know who hold a Masters of Law degree? It might be a sickness, really) has resulted in her acquiring extensive training in acting for film, stage and voiceover over the years and to this day. This, in addition to her years of classical singing, musical theater and dance training, combined with her love of play and fascination with the human psyche (her undergraduate training is a combination of theatre, psychology and oil and gas management), allow her to continually create authentic characters, unique to a project's requirements.

Oh Yes, an explosive ending indeed! This was such a great series, with such a great world develompent and great characters, full of action and with an amazing narration! I am sorry it's over! (but I still have the books – subject for the next reread session)!
"Metaverse" concludes so many open points from the previous books.  Some may say the blurb is evasive, but with so much going on, it's great we have no spoilers in there. However, I can tell you that our main character Rhea is in for a treat! The same goes to her amazing companions.
Rhea develops even more, she manages to discover so much about her heritage and her role in this war that has enveloped the universe. Her story transcends planets and she becomes so much more than a simple presence. I like her and I admire her power.  I'm sorry, I'm being cryptic here. But if you have read or listened to books 1 and 2, you are compelled to see how it all ends. And you already know how great the story is.
The narration is as amazing as in the other two books. Dawn Harvey has done an amazing job giving life to Rhea, making all thsi action real and palpable. At times, I was listening to her breathlessly. Everything was enhanced due to the narration!
I have little else to add, except that maybe one day I will see this series in our Romanian libraries, so that my fellow countrymen can enjoy Mrs. Nina Munteanu's writing. 5 stars!
Please follow this lovely blog tour, as there are so many great things to read about J
I received this audiobook as part of my participation in a blog tour with Audiobookworm Promotions. The tour is being sponsored by Nina Munteanu. The gifting of this audiobook did not affect my opinion of it.

Prize: Print copies of the Trilogy set
The Splintered Universe Trilogy Giveaway: Print Copies of the Trilogy

Book One
Jan. 8th:
Jan. 9th:
Jan. 10th:
Jan. 11th:
Jan. 12th:
Jan. 13th:
Jan. 14th:
Book Two
Jan. 15th:
Jan. 16th:
Jan. 17th:
Jan. 18th:
Jan. 19th:
Jan. 20th:
Jan. 21st:
Book Three
Jan. 22nd:
Jan. 23rd:
Jan. 24th:
Jan. 25th:
Jan. 26th:
Jan. 27th:
Jan. 28th: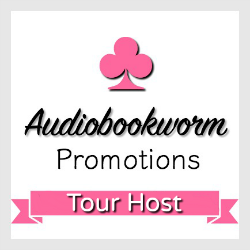 ➜Sign up as a host here