Author: Peter J. Thompson
Narrator: Gary Tiedemann
Length: 10 hours 24 minutes
Publisher: Peter J. Thompson
Released: Dec. 19, 2018
Genre: Suspense


Government secrets. Biological weapons. Human subjects.

In a top-secret complex surrounded by miles of Texas scrubland, the United States military is working on a new form of germ warfare. Taken from homeless shelters and prisons, the subjects, discarded men and women of America, serve their country as unwilling lab rats.

Ramon Willis didn't commit the murder that put him on death row. But he's guilty of something worse – surviving the virus and escaping his captors. Knowing he can't take on the corrupt system alone, there's only one person he can turn to – Lena Dryer, the reporter who covered his case and watched him die.

With assassins dogging their trail and all their options for survival closed off, they must risk everything to bring this conspiracy to light. But time is short. When an extreme faction in the government pushes forward with the next phase of their plan, the fate of the nation hangs in the balance.





Peter Thompson grew up on the east side of Chicago, in the shadow of the steel mills where the air was sooty and smelled of sulfur. His life wasn't always so gritty, but the grit and realism finds its way into his thrillers. He has always loved stories of every kind, and one of his joys is finding a way to get inside character's heads, seeing the world as they see it and feeling their triumphs, pain, and fear. He visualizes his characters when he writes, and they are larger than life in the big screen of his imagination.

Before pursuing his passion and becoming a full-time author, he tried his hand at everything from factory work, breaking cement in a construction crew, running his own pizza shop, and he was a well-regarded presence in the mortgage industry for nearly thirty years. When he isn't writing, Peter loves, spicy food, live music, and exciting and thought-provoking books and movies. He is a fitness buff who loves to spend time with his grown sons and is looking forward to traveling the world and seeking adventures with his lovely partner.

To get in touch, find out more about future projects, please stop by http://www.authorpeterthompson.com. Sign up for his reading list to find out about new releases and receive free perks.

Gary Tiedemann is a full-time voice-actor and narrator of audiobooks, with over 60 unabridged titles narrated and counting. He has voiced countless commercials and multimedia productions in addition to spending over 10 years on stage performing improv, sketch comedy and original works of theatre. Gary is a graduate of Tulane University in New Orleans. He currently splits his time between Florida and Chicago. See more at http://www.garytiedemann.com

If I were to describe in two words this book, those would be: believable and visual. As many other reviewers mention in their comments, the story is very believable and can be related to easily. The author did an amazing job transmitting the scenes. This entire book is like watching a movie. It was a great experience.
We have a main character whose life has gone from bad to worse. He is now struggling to find justice, but quickly realizes he is up against an enemy far greater than he would have ever imagined. With help, he uncovers mystery after mystery and becomes immersed in this political conspiracy and we can see even in our days. Ramon and Lena are amazing together and they work incredibly well. Both brave, intelligent and willing bring the truth to light.
I enjoyed my time with the book so much. The plot caught my attention so fast and the pace was perfect to keep my interest. The narration was as well amazing. Gary Tiedemann's experience is not easy to ignore. His voice acting is great, his way of expressing emotions is fantastic, I loved it so so much.
All in all, this was a fantastic experience. "Living Proof" is a story that will grip you from the start. It's a time well spent, I can tell you that! I hope you will consider it for your next read and come back with your opinion J Happy reading!
I received this audiobook as part of my participation in a blog tour with Audiobookworm Promotions. The tour is being sponsored by Peter Thompson. The gifting of this audiobook did not affect my opinion of it.

Feb. 17th:
Feb. 18th:
Feb. 19th:
Feb. 20th:
Feb. 21st:
Feb. 22nd:
Feb. 23rd: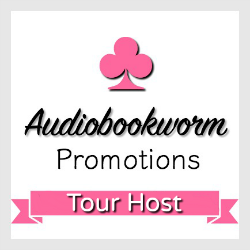 ➜Sign up as a host here