Author: Lindsey R. Loucks
Narrator: Kamala Alcantara
Length: 9 hours 58 minutes
Series: Haunted Stars, Book 1
Publisher: Evershade Publishing
Released: Nov. 20, 2018
Genre: Paranormal Romance; Science Fiction


Nineteen-year-old Absidy Jones is a ghost magnet, a sensitive person spirits flock to when they can't cross over. After her brutal past escaping the hordes of ghosts vying for her attention, she spends her reclusive existence melting down iron into bite-sized pieces. Whether alloy or wrought, ancient paper clips or nails, consuming iron is the only thing that keeps the ghosts away.

But when Absidy's sister goes missing in deep space, a dangerous place brimming with rogue planets, ship-eating nebulas, and vicious aliens, Absidy vows to find her. She leaves her safe haven and boards the first ship she can that's on a direct route to deep space – a ship that turns out to be haunted.

To keep the malicious ghosts from killing her, the alluring bad boy pilot gifts her a small bundle of all the iron on the ship. But their growing relationship is tested with the crew's prying eyes and hidden secrets. While the ship sails into deep space, it's not just her sister's life that Absidy fears for. It's her own as well. Especially since her stash of iron has shrunk to zero.



Lindsey R. Loucks is a USA Today bestselling author of paranormal romance, science fiction, and contemporary romance. When she's not discussing books with anyone who will listen, she's dreaming up her own stories. Eventually her brain gives out, and she'll play hide and seek with her cat, put herself in a chocolate-induced coma, or watch scary movies alone in the dark to reenergize.

Kamala Alcantara is a Voice Actress & Audiobook Narrator capable of performing a wide range of voices & accents.

Before diving into my review, allow me please to apologize to Jess and the author for the (very) late post of my review. Things have gone from crazy to crazier and I am trying to find a new balance around the many changes.
"Sail" is an incredible book and is even more enjoyable in audio format. I have loved every minute of every chapter and I am so eager to get to the next one in the series. We have an incredible world with exceptional characters and a plot that will keep you guessing.
Absidy is different. She has always been this way – needing iron to keep ghosts away. But now she needs all she can find to save her sister. Disguised as a young boy, helping the ship's cook, she embarks on a journey to Deep Space, a place full of dangers and many unknown threats, to bring her sister home. Considered a fugitive, she has no way of turning back. She finds a potential ally, when the ship's pilot discovers who she really is. Mace is a tormented soul himself and is not sure if the girl in a ship full of men can be trusted.
I loved so many things about the characters, but most of all, I loved Absidy's struggle with being different. She is afraid to reveal her need of iron or her "curse" of attracting ghosts. There is so much to uncover when it comes to this and the book offers so so much. She and Mace (our pilot) evolve so much together and as well individually.
The narration was fantastic to say the least. We have a beautiful voice that can very well illustrate the emotions. Most of the story is about fear, regardless if it's fear of ghosts, or fear of being discovered. Kamala Alcantara is amazing.
All in all, I loved it so so much and I cannot wait to see where the story takes us. The world building is great, the writing is great and the narration is superb. We have the perfect combination for a 5 star book. Again, I apologize for my delay in posting this review because any amazing story needs to be shared with other readers as soon as possible!
I received this audiobook as part of my participation in a blog tour with Audiobookworm Promotions. The tour is being sponsored by Lindsey R. Loucks. The gifting of this audiobook did not affect my opinion of it.

Prize: 1-Month Audiobooks.com Membership
Sail Giveaway: 1-month Audiobooks.com subscription

Feb. 10th:
Feb. 11th:
Feb. 12th:
Feb. 13th:
Feb. 14th:
Dab of Darkness Audiobook Reviews
Feb. 15th:
Feb. 16th: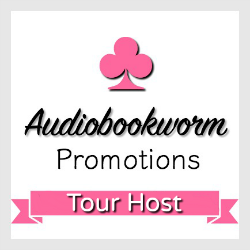 ➜Sign up as a host here