Author: Julie Berry
Narrators: Jayne Entwistle
Length: 9 hours 29 minutes
Publisher: Audible Studios
Released: Sep. 25, 2018
Genre: Middle Grade Fantasy

From award-winning author Julie Berry comes a brand new middle-grade fantasy adventure full of humor and heart, exclusively from Audible.

Maeve Merritt chafes at the rigid rules at her London boarding school for "Upright Young Ladies." When punishment forces her to sort through the trash, she finds a sardine tin that houses a foul-tempered djinni with no intention of submitting to a schoolgirl as his master.

Soon an orphan boy from the charitable home next door, a mysterious tall man in ginger whiskers, a disgruntled school worker, and a take-no-prisoners business tycoon are in hot pursuit of Maeve and her magical discovery. It'll take all of her quick thinking and sass to set matters right. Maeve Merritt is one feisty heroine you won't soon forget.

Julie Berry lives near Los Angeles with her family. The Scandalous Sisterhood of Prickwillow Place is an Odyssey Honor Audiobook, and The Passion of Dolssais a Printz Honor Title.




Julie Berry is the author of the 2017 Printz Honor and Los Angeles Times Book Prize shortlisted novel The Passion of Dolssa, the Carnegie and Edgar shortlisted All the Truth That's in Me (2013, Viking), the Odyssey Honor title The Scandalous Sisterhood of Prickwillow Place (2014, Roaring Brook), and six others. Her latest novel, The Emperor's Ostrich, released June 13, 2017 from Roaring Brook. Her forthcoming novel, Lovely War, will release from Viking Children's Books in Spring 2019. She holds a BS from Rensselaer in communication and an MFA from Vermont College. She lives in Southern California with her family.

Jayne was born in the North of England and lived in a myriad of places (Vancouver, San Francisco, Tucson, Sequim, Seattle) before landing in Los Angeles. She is an avid improviser who hitched her space-work wagon to Patrick Bristow's company, Improvatorium, where she studied, taught, directed and performed improv.
She is an award-winning audiobook narrator best known for her narration of the Flavia de Luce series by Alan Bradley. She also received the 2015 Odyssey Honour Award for The Scandalous Sisterhood of Prickwillow Place by Julie Berry and the 2016 Odyssey Award for, The War that Saved My Life by Kimberly Brubaker Bradley.
When not inhaling books for work or pleasure, Jayne works in film, television and commercials. The biggest star she has ever worked with is Shaquille O'Neal. He is quite literally THE biggest star she has ever worked with. Ever. He's really big!

I cannot even begin to describe how amazing this book was! Again, I wish I had a physical copy so I could mark my favorite parts! Then again, there are so many, I would mark the entire book! It was fantastic, it was delicious and so so fun to listen to!
Julie Berry has created a delightful character. Maeve Merritt is such an interesting character. Even her name is musical in some way. It just sounds right – I'll get back to that when I'll discuss narration. Little Maeve is supposed to behave as any young lady of her age. Her parents have sent her to one a good school, where she is supposed to learn manners and how to properly behave in the Victorian England. Still, she is more rebellious than the other girls, but in a fair way. She doesn't like her superficial colleagues and prefers spending time with the boys. This earns her a lot of bullying and gets her into trouble, as innocent as she may be. Still, when she discovers a magical sardine can, her mind starts working as an adult's should.
I love the main character and I love her adventures. It reminds me in a way of little Anne of Green Gables, even if their stories are nothing alike. It just gives me the same childhood feeling. This book is perfect for middle grade, but it can be read at any age. I for one would read it over and over again. It will bring a smile to your life and it will brighten your day. Yes, that's what this book does – it brightens your day and your mood.
The narration was fantastic, for lack of an even better term to describe it. What Jayne Entwistle was to charm us even more and to make us adore the characters and all the amazing adventures. I loved how she pronounced the name of our main characters – something about the musicality of it really stuck with me. She did an amazing job with the accent and with voice acting. I am telling you, she was phenomenal.
 This entire story was phenomenal! I cannot get enough – I have just finished it and would listen to it all over again. This is a book you must have in your home, as a physical copy but also as audio. The audio version enhances to enormous proportions the fun and the wit of our character. It was a fantastic production. I am really really sorry for not being able to give more than 5 stars – I am confined to this insignificant rating for such a wonderful book with such a wonderful narration.
Please follow this blog tour and along the way you will read an amazing character interview 🙂
P.S.: Sorry, I used "amazing" too many times. It still feels so little. Because it was AMAZING!
I received this audiobook as part of my participation in a blog tour with Audiobookworm Promotions. The tour is being sponsored by Julie Berry. The gifting of this audiobook did not affect my opinion of it.

Nov. 4th:
Nov. 5th:
Nov. 6th:
Nov. 7th:
Nov. 8th:
Nov. 9th:
Nov. 10th: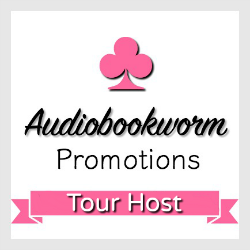 ➜Sign up as a host here