Author: Casi McLean
Narrators: Kristin James
Length: 8 hours 28 minutes
Publisher: Casi McLean
Released: Sep. 24, 2018
Genre: Time Travel Romance


She never expected to confront deadly villains…let alone fall in love with one…

After her friend, York, encounters the ghostly image of a young woman, Mackenzie Reynolds seizes the opportunity to initiate a time jump, thrusting them back to 1865 Georgia. Resolved to thwart the girl's untimely fate, Kenzi stumbles into a deadly conflict over a stockpile of stolen Confederate gold.

An injured Civil War survivor, James Adams departs for home with a war-fatigued companion he's determined to help. After pilfering a horse and kidnaping a woman, he never dreamed his hostage would steal his heart.

Kenzi and James must unravel a deadly plot, while helping York save his ghost woman from a brutal death. But can she leave York in a violent past to save James's life?




Award winning author, Casi McLean, pens novels to stir the soul with romance, suspense, and a sprinkle of magic. Her writing crosses genres from ethereal, captivating shorts with eerie twist endings to believable time slips, mystical plots, and sensual romantic suspense, like Beneath The Lake, WINNER: 2016 Gayle Wilson Award of Excellence for BEST Romantic Suspense.

Casi's powerful memoir, Wingless Butterfly: Healing The Broken Child Within, shares an inspirational message of courage, tenacity, and hope, and displays her unique ability to excel in nonfiction and self-help as well as fiction. Known for enchanting stories with magical description, McLean entices readers in nonfiction as well with fascinating hooks to hold them captive in storylines they can't put down.

Her romance entwines strong, believable heroines with delicious hot heroes to tempt the deepest desires then fans the flames, sweeping readers into their innermost romantic fantasies. Ms. McLean weaves exceptional romantic mystery with suspenseful settings and lovable characters you'll devour. You'll see, hear, and feel the magical eeriness of one fateful night. You'll swear her time travel could happen, be mystified by her other worldly images, and feel heat of romantic suspense, but most of all you'll want more.

Kristin "KJ" James was born and raised in the Nashville, TN area. Acting has always been a passion of hers. Starting on the stage as early as preschool, KJ pursued her passion into college where she received a BA in Communication with a double emphasis in Theatre and Public Relations from Mississippi State University. After college she found herself more and more drawn to voice overs. Several classes, coaching sessions, seminars, research, and a closet-turned-studio later, and she now records and produces audiobooks on a regular basis. She has also done several radio commercials for clients such as Advance Financial, TriStar Health, and GAC.

When she's not in her booth, you can find her crocheting, playing video games, or running agility with her dogs.

"Between the Shadows" is probably the most interesting book in the series. We follow not one, but two stories, which become not only linked but also a choice. We have multiple POVs, two romances and time travel. One altered moment in the past will change the present, so our characters must make sure that the change will be beneficial.
Kenzie Reynolds jumps at the opportunity to travel back in time and help her friend York save the mysterious woman that captured his attention, a woman badly hurt in her time and whose life is in danger. York and Kenzie must alter the events, so that her friend and his beloved can have a future. Little did Kenzie expect to find her own soul mate in 1865. A dynamic story, a lot of action and very interesting relationships – these are just a few items that make this story special.
I loved how the time travel aspect is created, as well as in the case of the other books in the series. Tess is evolving and it is becoming a device that hides a lot of power and opportunities. Kenize is only just scratching the surface, but she is willing to learn more. Her knowledge is put to use with York and Isobel and they all end up in a battle for gold. James Adams was not supposed to be part of the picture, but Kenzie fells the attraction and takes a risk to trust the man that kidnaped her.
The writing is beautiful and the characters are well defined, but this is something that we are already used to when it comes to Casi McLean. I do have one small complain when it comes to the beginning. It was too sudden and it felt a little forced. I mean, it was very easy for Isobel to understand and accept York's explanation or the time travel concept. For a woman born in the 1800s, who cannot fathom a woman in jeans, she is ok with the "back in time to save you" idea. I really enjoyed this book so much and this frustrates me. Otherwise, I would have given all those 5 stars!
The narration was fantastic. It was full of emotions, it evoked all the feelings and it brought the story to life and closer to our hearts. Yes, we do have a lot of action, but Kristin James does so much for us listeners and captures our attention even more. I loved her stile and I loved especially the determination in her voice. Everything sounded clear and clean.
All in all, 4 out of 5 stars for "Between the Shadows". I have tried to look beyond the small inconvenience I feel for the beginning and for Isobel, but it nagged me too much. Otherwise, it was fabulous and full of action and on the edge moments.  Enjoy !
I received this audiobook as part of my participation in a blog tour with Audiobookworm Promotions. The tour is being sponsored by Casi McLean. The gifting of this audiobook did not affect my opinion of it.

5 Winners: Free Audiobook of Choice
Between the Shadows Giveaway: Free Audiobook of Your Choice

Oct. 28th:
Oct. 29th:
Oct. 30th:
Oct. 31st:
Nov. 1st:
Nov. 2nd:
Nov. 3rd: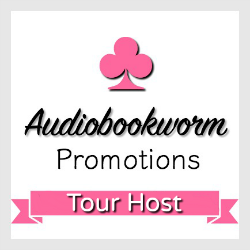 ➜Sign up as a host here