Author: Tabitha Lord
Narrator: DW Draffin
Length: 8 hours 15 minutes
Series: Horizon, Book 1
Publisher: Wave Equation Media
Released: Oct. 25, 2018
Genre: Science Fiction


Caeli Crys isn't living – she's surviving. On the run after the genocide of her empathic people, she witnesses a spaceship crash near her hidden camp. When she feels the injured pilot suffering from miles away, she can't help but risk discovery to save his life.

Commander Derek Markham awakens stranded on an uncharted planet. His co-pilot is dead, his ship is in ruins, and he's only alive because a beautiful young woman is healing him with her mind.

As Derek recovers, Caeli shares the horror of her past and her fear for the future. When Derek's command ship, Horizon, sends rescue, Derek convinces Caeli to leave with him. But his world is as treacherous as hers – full of spies, interplanetary terrorist plots, and political intrigue. Soon the Horizon team is racing to defend an outlying planet from a deadly enemy, and Caeli's unique skills may just give them the edge they need to save it.



Tabitha's HORIZON series has won seven independent book awards including the prestigious Writer's Digest Grand Prize in 2016. She has short fiction published by World Weaver Press, Electric Athenaeum Magazine, Grimbold Books, and more. Tabitha is also a partner and senior writer for Book Club Babble, and a managing editor for the Inkitt Writer's Blog. She lives in Rhode Island and is married with four independent-minded and creative kids, two spoiled cats, and lovable black lab. She holds a degree in Classics from College of the Holy Cross and taught Latin for years at a Waldorf school where she now serves on the Board of Trustees.

DW Draffin is an actor and narrator in San Francisco. He has founded his own science fiction theater company, sold screenplays to New Line and FOX2000, and narrated the books of authors he idolizes.

"Horizon" starts of very well, with great details on the environment from many angles. I liked the history, the romance and the characters. The narration was pleasing as well. So overall, I'm not sorry at all to have spent the hours listening to it.
If you don't like a story that slowly increases in intensity, this book is not for you. I found the first chapters to move along kind of hard. The pace is not as alert as one may prefer, but all has a purpose. We find out a lot about our main characters, there is also a lot of politics and a lot of world building in general. I don't read SciFi very often, not because I don't like it, just because easy romances are more… easy J So I enjoyed this slow introduction and spending some quality time knowing Caeli and Derek.
Second part of the book is much more alert and revealing. It kept me so entertained and so engrossed, I did not even feel the time passing. The author uses just the perfect words to emphasize new traits and increase the dose of emotional impact. I was so captivated about Caeli's mission and how she evolves as a person.
I enjoyed the narration as well. With great voice acting and great emotions for characters, DW Draffin does an excellent job with this story.
I cannot wait to see what will happen next. There is so much to find out about Caeli and her world. Loved it, 4 stars J
I received this audiobook as part of my participation in a blog tour with Audiobookworm Promotions. The tour is being sponsored by Tabitha Lord. The gifting of this audiobook did not affect my opinion of it.

Jan. 13th:
Jan. 14th:
Jan. 15th:
Jan. 16th:
Jan. 17th:
Jan. 18th:
Jan. 19th: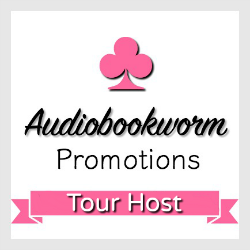 ➜Sign up as a host here